Key events
This is a huge wicket. The pressure of dot balls finally got to de Kock, who cracked the ball miles in the air back over Hazlewood's head. Cummins backpedalled urgently from mid-on to take a brilliant two-handed catch at neck height – and he held on as the force of the blow knocked him off his feet. It was almost identical to Kane Williamson's catch to dismiss Rohit Sharma yesterday. But this is an even bigger wicket: de Kock has gone for 3 from 14 balls.
WICEKT! South Africa 8-2 (de Kock c Cummins b Hazlewood 3)
Pat Cummins takes an immense catch to get rid of Quinton de Kock!
5th over: South Africa 8-1 (de Kock 3, van der Dussen 3) There's a bit of swing for Starc – nothing extravagant, but enough to make the batters wary. Van der Dussen tries to land the first counter-punch, walking across to crack a drive that is brilliantly stopped by the diving Warner in the covers. Warner does it again next ball, this time diving to his left. He'll start his innings on 8 not out.
Van der Dussen eventually gets a back-foot drive past him for a couple of runs. The score doesn't look great for South Africa, and that's an understatement, but it's essential they survive this new-ball spell. We know they can catch up later on.
"Good morning Rob from a sunny Cape Town," writes Trevor Tutu. "I was half-minded to stay at home and watch the match on telly, but my conscientiousness kicked in and I set out for work, safe in the knowledge that the OBO would keep me informed.
"And what happens when I turn to the OBO? Bavuma is out before he was even in! You are going to have to pull your socks up Rob, if the Proteas are to get to the 350 they need to make this match safe."
350 indeed.
4th over: South Africa 6-1 (de Kock 3, van der Dussen 1) Winning the toss should have been a huge advantage; instead, on a sweaty pitch, it looks like a mixed blessing. South Africa were affected by the weather when they were eliminated in 1992, 2003 and 2015, but they probably thought they were safe in Kolkata.
Hazlewood continues to bowl as if it's a Test match. He goes up on his own for caught behind after beating van der Dussen with an extravagant legcutter, and another terrific over ends with van der Dussen inside-edging a single. Had he missed that he would probably have been LBW.
3rd over: South Africa 4-1 (de Kock 2, van der Dussen 0) de Kock is beaten, chasing a wide outswinger from Starc, and the only runs from the over are a leg-bye and a wide.
These are dangerous times for South Africa. If they lose de Kock – who has already made four centuries at this tournament, including a tremendous 109 against Australia in Lucknow – the ghosts of World Cup past will be screeching.
"Just the start we didn't need!" writes Duncan Bonnett. "Temba should not have been in the side today anyway – still not 100 per cent fit, by his own admission, and woefully out of form in the World Cup. Reeza Hendricks would definitely have been a better pick, with Markram as skipper."
I know what you mean, and Hendricks batted superbly against England, but it would have been an extraordinary call to drop the captain for a World Cup semi-final. Is there any precedent for that? I feel really sad for Bavuma, who came into this tournament in spectacular form but hasn't got past 35.
2nd over: South Africa 2-1 (de Kock 2, van der Dussen 0) Josh Hazlewood's first delivery lifts and seams to beat de Kock, who then edges wide of slip for a single. The new batter Rassie van der Dussen keeps out a good nipbacker and is cut in half by a jaffa.
That's a fantastic start from Hazlewood. The overhead conditions are a bit of a gamechanger, and Australia are on the prowl. South Africa need to treat the first 10 overs like a Test match.
1st over: South Africa 1-1 (de Kock 1, van der Dussen 0) We've all been talking about 1999 this week but there's another precedent South Africa will be mindful of – their shambolic, overeager batting performance against Australia in the 2007 semi-final.
Temba Bavuma has gone for a fourth-ball duck. It was a fine delivery from Starc – tight line, just back of a length – and Bavuma snicked a defensive push through to Josh Inglis. Not quite the perfect start for Australia, because they've have preferred to dismiss Quinton de Kock, but it's not far short.
WICKET! South Africa 1-1 (Bavuma c Inglis b Starc 0)
Goddim!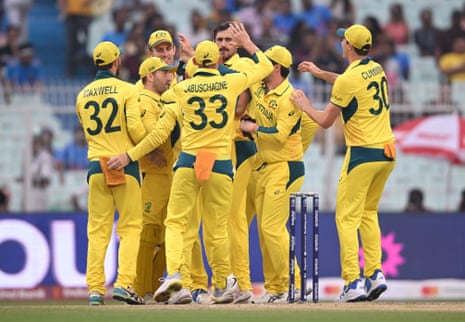 Mitchell Starc will open the bowling. He hasn't had a great tournament – 10 wickets at 44 – but it's overcast and the new ball should swing. This is his chance.
ICYMI South Africa are about to play Australia in a World Cup semi-final, and it is gargantuan.
May the best team meet India in the final on Sunday.
"Re: your comment about a reserve day," begins Jonathan. "Are all 20-over match thrashes or just this hypothetical one? I fear the T20 purists would object to such a word."
So would anyone with a half-decent command of language, but I'd just stumbled out of bed and my brain only presented me with a couple of options. I reluctantly concluded that '20-over thrash' was preferable to 'desperate 20-over arsenipper'.
"Well here we are, Rob," says Guy Hornsby. "What's par on this pitch? SA winning the toss is massive (which is a shame really, as was yesterday) and they'll want to go big so will Australia be happy chasing anything over 320? I'd assume not. And that SA will want to bat them out of the game, with 350+.
"Also a big shout to Marnus, who having been left out of the squad, is now a lock. I'm not sure he and Smith together is great in a chase (or generally) and while it feels like heresy, I'd have picked Stoinis over the great man, who doesn't seem who he once was in the short format. Everything ends in the end, I guess."
Have you been watching Six Feet Under again? I've no idea what a par score is, as I don't have a great view of the pitch from my office in Bruton. But my instinct, based on the experts' views, is that it's between 280 and 320. The first 10 overs are vital for South Africa because the new balls should do a bit. It's important they don't lose early wickets plural.
Trigger warning
Ricky Ponting says Adam Zampa is Australia's most important player. The stats back him up. In ODI victories he has taken 121 wickets at 20.83; in defeats his record is 41 at 48.97.
Pitch report Matthew Hayden, once again wearing his magnificent pink fedora, thinks there will be plenty of turn as the match progresses. He also says South Africa need a minimum score of 300.
Ali Martin's preview
Temba Bavuma says he isn't 100 per cent fit, though he was never going to miss this game. South Africa bring in Tabraiz Shamsi for Lungi Ngidi, which means the feisty Gerald Coetzee keeps his place. Bavuma didn't specify whether Ngidi was injured or omitted.
Australia bring back two big guns, Mitchell Starc and Glenn Maxwell, for Sean Abbott and Marcus Stoinis. That means they've kept the middle-order insurance of Marnus Labuschagne.
South Africa de Kock (wk), Bavuma (c), van der Dussen, Markram, Klaasen, Miller, Jansen, Coetzee, Maharaj, Rabada, Shamsi.
Australia Head, Warner, Marsh, Smith, Labuschagne, Maxwell, Inglis (wk), Cummins (c), Starc, Zampa, Hazlewood.
South Africa win the toss and bat
Temba Bavuma humours Mike Atherton by saying he considered bowling first because of the conditions. Pat Cummins would also have batted, though he doesn't seem too disappointed. The new ball should swing given the overhead conditions.
The covers are off and it looks like we're going to start on time.
Seven of the likely Australian XI were part of the squad that won the 2015 World Cup. This is their last dance.
Glenn Maxwell came into this World Cup as a handy bowler who used to bat. It's fair to say that is no longer the case.
The covers are on in Kolkata, so the start is likely to be delayed. The forecast for rain adds another layer of intrigue to this game. Both teams will surely bat first if they win the toss – South Africa because they want to, Australia because South Africa want to – but a reduced runchase would muddy those particular waters.
There is a reserve day if necessary, though the umpires will make every attempt to finish the match today, even if that means a 20-over thrash.
Look, it was always going to be like this. As the penny dropped, in the first fortnight of the World Cup, that South Africa were serious contenders, the cricket world instinctively understood that they would have to beat Australia at some stage. Not in the league stage – though they did that handsomely – but in the knockouts, when it really counts.
One statistic tells the story of this game. South Africa are hoping to reach their first World Cup final; Australia expect to reach their eighth. This is a humdinger of a semi-final between two teams who have more in common than they would ever dare admit – and fundamental differences that South Africa need to overcome.
The history of this fixture is simple: Australia win the games that really matter. In that context, South Africa's outstanding run of 16 wins in the last 20 ODIs against Australia is almost ominous, because none of those games were anywhere near as big as this.
But they have a proven template to beat Australia, and everyone else for that matter: win the toss, bat first, bat big, ideally huge. They are too good not to crack this thing eventually. We're about to find out whether today is the day.