Twelve years on from the second of India's World Cup victories, that dizzying night in Mumbai when MS Dhoni struck the most famous of all his sixes and Sachin Tendulkar was held aloft on the shoulders of teammates, expectation in the country somehow feels even greater.
Certainly, a day out from this year's final showdown against Australia, the five-time champions who somehow start as the underdogs, a state of delirium had been already reached. A vast crowd of locals had gathered along the Motera road that leads to the gates of the Narendra Modi Stadium, the fans cheering joyfully, drivers honking their horns and the gimlet-eyed police officers and soldiers just about holding their lines.
As India's cricketers underwent their final preparations in the sanctity of a ground that will transform into a raucous six-figure sell-out – the prime minster among them – the names of Rohit Sharma and Virat Kohli were most common on replica shirts outside. Two batters different by way of style, temperament and look, but fully aligned in their desire to deliver a third title for their country, they are by some distance the biggest stars on show.
Although as captain and icon, whose name should come first here is not straightforward. Perhaps it requires the old trick Hollywood producers pull when they have two equally stellar actors for the poster: place one on the left lower down, the other on the right but higher up, ensuring both feel just as important. Perhaps these are the frazzled thoughts of someone who only just about managed to battle their way out through the crowd.
The old bowlers may well grumble here, insisting Jasprit Bumrah, Mohammed Shami and Ravindra Jadeja should top the cast list, such has been the utter relentlessness of India's attack in their 10 straight wins. The first two certainly embody the new level unlocked by India's system over the past decade or so: a pair of elite quicks to rank alongside the very best in history from the trade's more traditional heartlands.
By almost every metric, Kohli has long been the production's leading man, having slipped into the shoes vacated by Tendulkar and just this past week surpassed the Little Master's 49 ODI centuries. Kohli boasts a media profile – both social and traditional – that outstrips every other cricketer on the planet and all but a handful of other sportspeople. As the nickname suggests, King Kohli wears the crown.
But the stripes are a different thing, the captaincy having passed from Kohli to Sharma in late 2021 despite the latter being his elder by about 18 months. Though Kohli has peeled off 711 frictionless runs to top the charts in this World Cup by some margin, Sharma's impact on proceedings has been arguably more profound. Seemingly sated at the end of a career built on mammoth individual batting feats, the opener they call "the Hitman" has selflessly trained his sights on setting a truly aggressive tone.
The gear shift has been remarkable, not least at an age – 36 – when batters can become increasingly circumspect. Previously a patient starter who built towards a climax, Sharma has erupted during the powerplays; a player who drew criticism for a 27-ball 28 in last year's T20 World Cup semi-final defeat to England has hit 550 runs at a strike-rate of 126, tearing chunks out of attacks early on and allowing Kohli, Shreyas Iyer and KL Rahul to then devour the wounded animal.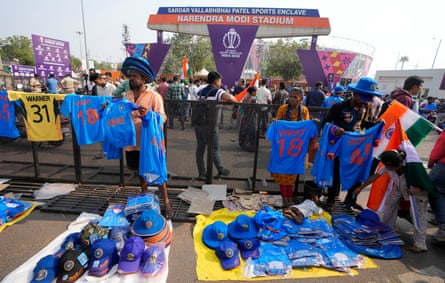 Rahul Dravid has been central to Sharma's new role, one that could perhaps be dubbed "balls to the Wall" if this didn't sound like the captain pushing back against his head coach.
It was never more evident than during Wednesday's semi-final against New Zealand in his home town of Mumbai, Sharma's initial 47 from 29 balls eclipsed by centuries from Kohli and Iyer numerically but, for me, still the most impactful innings of the day.
That one of Sharma's rare failures was a six-ball duck in the victory over Australia in Chennai offers Sunday's opponents hope they can keep him quiet. So much feels stacked against Pat Cummins and his men in this rematch, not least a crowd that will be similar to a packed MCG by way of numbers but is likely to see every wicket or boundary registered by the team in canary yellow met with a deathly silence.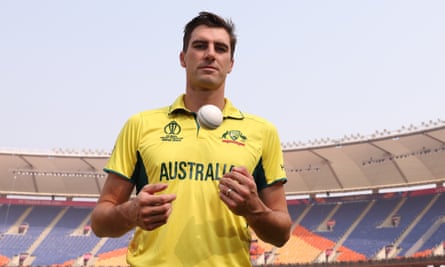 "You've got to embrace it," said Cummins, whose side have won eight straight games. "The crowd's going to be very one-sided but there's nothing more satisfying than hearing a big crowd go silent. That's the aim for us. You just can't get overwhelmed. You got to be up for it, you've got to love it and just know whatever happens it's fine. You just want to finish the day with no regrets."
Sharma naturally had to field the reverse question of how the heightened noise and expectation will be handled. "Emotionally, it's a big thing, a big occasion," came the reply, his demeanour distinctly calm. "Whatever hard work and dreams you have, you have for this. Tomorrow, that day will be in front of us.
"For me and the other 10 players, the focus will be more on our work for the team, rather than thinking this is the biggest moment of my life. Of course, it is. There is no doubt. Back of the mind, it is there. You can't hide from that. But it's really important to remain calm in such situations because if you are, then you can play your role as a team well."
It is a message that need not be relayed to Kohli, the sole survivor from the win in 2011 and one of the shoulders on which Tendulkar was lifted. Kohli was among the supporting cast that night but will stand side by side with Sharma at the anthems as one of the headliners. More than half a billion people are expected to tune in and whatever happens, it feels almost guaranteed to be box office.
India (likely): Rohit Sharma (c), Shubman Gill, Virat Kohli, Shreyas Iyer, KL Rahul (wk), Suryakumar Yadav, Ravindra Jadeja, Mohammed Shami, Jasprit Bumrah, Kuldeep Yadav, Mohammed Siraj
Australia (likely): Travis Head, David Warner, Mitchell Marsh, Steven Smith, Marnus Labuschagne, Glenn Maxwell, Josh Inglis (wk), Pat Cummins (c), Mitchell Starc, Adam Zampa, Josh Hazlewood