Key events
5th over: Australia 41-2 (Head 8, Marsh 15) Bumrah's first over went for 15, even though he bowled pretty well. His response: two overs, one run, one wicket. I never thought there would be a better white-ball fast bowler than Joel Garner; Bumrah is starting to run him close.
WICKET! Australia 41-2 (Marsh c Rahul b Bumrah 15)
To say Bumrah deserves this would be the understatement of the tournament. He has bowled magnificently – and yet it's a poor ball that takes the wicket. Marsh threw everything at a very wide short ball and bottom-edged it through to a gleeful KL Rahul.
Marsh goes for a testosteronic 15 from 15 balls. And now for something completely different: Steve Smith.
4th over: Australia 41-1 (Head 8, Marsh 15) Shami took a key wicket but he hasn't bowled well with the new ball. Another leg-side wide beats Rahul and goes for a couple of runs.
Marsh, who has an outstanding ODI record against India this year (average 62, strike-rate 122), blasts a magnificent six over wide long-off. I'd get Siraj on for Shami at this end, maybe even Jadeja.
"What a great game we're looking at now," writes Andy Bradshaw. "Also, England cricket fans have a massive dilemma."
Are you trying to get me sacked?
3rd over: Australia 29-1 (Head 8, Marsh 6) This is the storm before the calm, because the pace will drop as the ball gets older and Smith and Labuschagne go to work.
Marsh is beaten, trying to cut consecutive deliveries from Bumrah. The first was an absurd, computer-game outswinger; you can't be doing that in real life. A single brings on Head on strike, and he is also beaten twice by beautiful deliveries. That's an awesome response from Bumrah, who could have three wickets already. Instead he has figures of 2-0-16-0.
2nd over: Australia 28-1 (Head 8, Marsh 5) Mitchell Marsh almost goes first ball, inside-edging a big drive wide of leg stump for a single. The ball is swinging lavishly, so much so that Shami swerves one down the leg side for four wides.
Shami overcompensates next ball with a wide delivery outside off stump that Marsh leathers over cover for four. This is pulsating stuff.
The atmosphere is astonishing. My TV has never produced noise like this in its life. Warner chased a very wide delivery and toe-ended it to slip, where Virat Kohli took a really smart catch to his left. That's a beautiful catch in fact.
WICKET! Australia 16-1 (Warner c Kohli b Shami 7)
An attacking move from Rohit Sharma, who has given the new ball to the human statgasm Mohammad Shami. Usually it's Mohammad Siraj, but Shami has 23 wickets at an average of 9 in this tournament.
No he doesn't, he has 24 wickets at an average of 9!
1st over: Australia 15-0 (Warner 7, Head 8) There's some extravagant early swing for Bumrah. Warner waves a square drive for three more, which brings Travis Head on strike. Bumrah moves round the wicket to Head, who blasts his second ball thrillingly through extra cover for four and clumps his fourth to the same area for another boundary! Bumrah's first over, largely excellent, has disappeared for 15.
"India lost nine wickets going at four an over like it was a John Player Special League match introduced from Canterbury by Peter West," writes Gary Naylor. "Worse, they ceded the initiative to the Australian ODI team, historically one of sport's greatest front runners. Now the top six can play in their comfort zones – Warner, Head, Smith and Labuschagne like it's a Test match (bonus – without second slip) and Marsh and Maxwell knowing that 90 minutes from either of them will probably win the match. Nous has trumped adrenaline so far – Solar Panel Pat should be hammering that message home now."
I have no idea whether you're right to be so critical, but it's going to be loads of finding out.
0.1 overs: Australia 4-0 (Warner 4, Head 0) Warner edges the first ball between first and second slip for four! It came at catchable height – but Virat Kohli and Shubman Gill left it to each other.
Are you ready for another heart-stopping World Cup final runchase? Me neither, but it's about to happen: Jasprit Bumrah to David Warner.
"I've stayed up overnight in Seattle to follow the game," writes Saurya Chakraborty. "It's a strange feeling to be up at this ungodly hour and following along solo while almost everyone I know back home is huddled around in large groups and no doubt completely unconcerned by the death of the format and indeed a World Cup which has felt high on sheen and (almost) completely absent of drama.
"Sitting here by myself, I'm unable to shake off the innate weirdness of watching what has felt more like a pageant than an actual sporting contest. Maybe this unnecessary rumination is a consequence of watching alone? Maybe these marquee events are meant to be social experiences, and I'm violating a basic tenet of the sporting spectacle by doing this to myself. Not many folks watch the Super Bowl alone either."
Thanks Tanya, hello everyone. I'll start with an apology to William Goldman.
Nobody knows anything… Not one person in the entire cricket world knows for a certainty what's a good score in this World Cup. Every time out it's a guess and, if you're lucky, an educated one.
After 24,398 runs, 725 wickets and one Timed Out, the 2023 World Cup may well be decided by the Ahmedabad dew. If it takes effect as Australia hope, they are strongish favourites. If not, India's score could be enough on a tinder-dry surface – if, and it's an elephantine if, they stop Travis Head and David Warner getting off to another flyer.
There are loads of ifs and only one near certainty: the first 10 overs of Australia's runchase will be spectacular. Travis Head and David Warner start ferociously at the best of times, but on this surface it's even more important that they extract every last boundary from the Powerplay. India only scored four fours in the last 40 overs.
It's the irresistible force versus the irresistible force. Australia have scored at 6.6 an over in the Powerplay; India's majestic seam attack have gone at 4.3 ad taken 21 wickets. Something's got to give. And when it does, we'll have a pretty good idea who is going to win this game.
"Greetings from Budapest, en route to an England XI's date with North Macedonia," writes Philip Cornwall.
"Regarding David Griffiths' thoughts (46th over), the big difference for me between this and 1983 (when I was lucky enough to be at Lord's) was that India were underdogs, with low expectations and so little to lose. This time it's hard to imagine there has been a greater weight of assumptions on the shoulders of finalists, born of so many successive wins and being on home soil."
So true. But the flags are still waving in the crowd, and shortly Bumrah and Siraj will take ownership of the shiny new white ball. Thank you so much for all your emails today and throughout this world cup, and sorry I wasn't able to get to them all. I'm going to hand you over now to Rob, the King of the OBO, who will take you through Australia's chase. Bye!
One thing it does vindicate is Cummins' decision to bowl first. No fast bowler has ever lifted the World Cup – but the P of Pat must be on the engraver's needle.
Atherton's money is with Australia. "They've got a great bowling attack, they have a chance but I do think Australia are favourites, especially if the dew comes in."
And the moment of the match so far, Travis Head's catch – sprinting and collecting over his head to dismiss Rohit Sharma.
So India finish just one short of the total in The Greatest Final of All Time. Australia were superb today – fielded like the perkiest of jack rabbits, bowled with precision, thoughtful field placings, clever changes of bowling. On it, on it, every ball. Whether India were too cautious, whether they read the pitch right, whether Australia were just too good, whether the weight of expectation was too heavy, I don't think I'll pretend to know. You'll just have to tune into Rob in about twenty minutes to find out.
"How much do you want it?"
Mitchell Starc has the microphone. "It's not an easy wicket to bat on, maybe its going to skid on a little bit , we're not sure. There's runs to be scored, it's not going to be easy, but its a World Cup final: how much do you want it?"
WICKET! Kuldeep run out Labuschagne/Cummins 10 (India 240 all out)- Australia need 241 to win.
50th over: India 240-10 (Siraj 9) Siraj swings at Hazlewood's second ball – beats Starc at mid-off and bisects the rope. Pent up applause erupts, as does the DJ, whose best lines must be still in the box. All round the stadium, people prepare their phones for the last ball – Kuldeep goes big, isn't caught, but is run out going for the second. How apt that it should be Cummins who knocks off the bails – brilliant bowling (2-34), inspirational captaincy.
49th over: India 232-9 (Kuldeep 8, Siraj 3) Siraj must face Cummins, who kindly donates a wide. Siraj ducks a bouncer, picks up a single. One for Kuldeep too. Just 12 fours and three sixes in the entire innings. Another single to Siraj flapping blindly, and one more for Kuldeep to enthusiastic applause. Five from the over. One to come.
Hello Jordan White on a train "I assume Bumrah and Shami will make short work of the Aussie batting line-up (I'm an Australian and a pessimist), but I'm also wondering how the match will be decided if a Super Over is tied – boundary countback, or something different? I think that's the funniest possible scenario at this point." Apparently, another super over. And then another, until it is done.
48th over: India 227-9 (Kuldeep 6, Siraj 1) A huge roar for a wide. Warner, it is he, sprints and dives to cut off a drive short of the rope. Then the wicket. India down to the crumbs under the table.
WICKET! Suryakumar c Inglis b Hazlewood 18 (India 226 -9)
He had to go for it, but the ball was so slow – out of the hand, off the pitch -that his timing is awry and he's too early in the shot, gloving behind.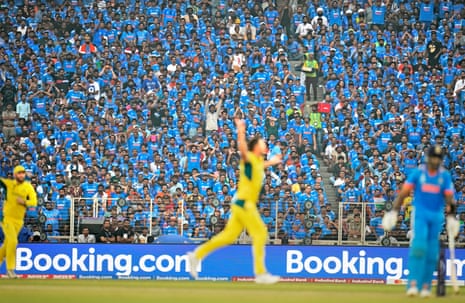 47th over: India 223-8 (Suryakumar 16, Kuldeep 6) Not easy for the number ten to take on Pat Cummins. But Kuldeep steals a single. Suryakumar tries to flick behind but there is a fielder there, of course. Those yellow shirts are everywhere. Just a single. Cummins holding back his pace. Lady Luck favours Kuldeep who almost cuts onto his stumps. Two from the over. Suryakumar has the strike.
46th over: India 221-8 (Suryakumar 15, Kuldeep 5 ) Suryakumar takes the single, which leaves Kuldeep against Starc – two dots, then they take two from the fifth. A precious drop of nectar for India, a wide. Then another single and Kuldeep keeps the strike. Starc is complete, after an excellent day's work: 3-55.
Hello David Griffiths! "To quote Hamlet, and to continue this riff on Fortune's femininity, India is currently sitting neither on the cap of fortune nor in the "soles of her shoes''. They are rather in the middle, "secret parts of Fortune … Oh, most true. She is a strumpet"
"As things stand, I am reminded of the 1983 final when the West Indies restricted India very effectively and looked to be cruising toward victory when suddenly Clive Lloyd injured himself while batting and the Windies crumbled soon after."
45th over: India 215-8 (Suryakumar 14, Kuldeep 1 ) A wicket and just two runs by India from the 45th over in the home World Cup final. How cricket teases.
Many thanks to my old friend Tim de Lisle for this telling stat. "Rohit: seven boundaries from 31 balls faced… one every four or five balls. Rest of top six: six boundaries from 33.4 overs faced … one every 33 balls."
WICKET! Bumrah lbw Zampa 1 (India 214-8)
Bumrah puts pad forward to the wrong un, doesn't bother reviewing, shakes his head as he walks briskly off.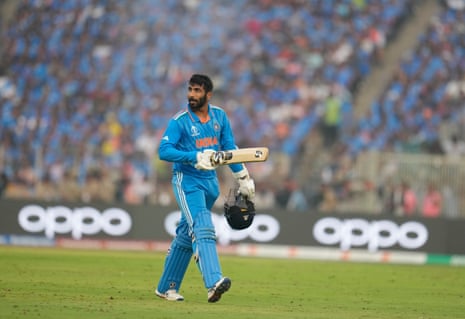 44th over: India 213-7 (Suryakumar 13, Bumrah 1 ) "Hi Tanya. We've been waiting all tournament for a genuine classic, so why not the final?I'm calling SUPER OVER right now." Simon McMahon, can you get that message to the crowd? They are looking desperately worried. As they should, as Shami slogs and edges behind. Two runs and a wicket from the immaculate Starc.
WICKET! Shami c Inglis b Starc 6 (India 211-7)
A fourth catch for Inglis, a common or garden swing and nick from Shami.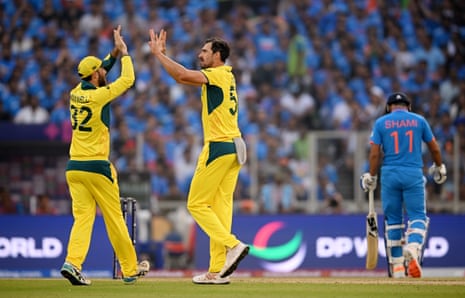 43rd over: India 211-6 (Suryakumar 12, Shami 6) Suryakumar takes a single from Cummins first ball, Shami swings and misses like your uncle at the swingball after a heavy lunch. Suryakumar hits Cummins into his own thigh, then flicks – in the air, safe, but just for a single.
42nd over: India 207-6 (Suryakumar 10, Shami 4) Starc approaches, his long legs and strangely heavy tread. Starts with a wide that floats legside. The crowd applaud gratefully. Suryakumar goes to slice away; backward point snatches it up. Then the wicket, from a piece of art from Starc. Humph says Shami, who angles the ball away for four. Shades of the 2019 World Cup final this, when New Zealand notched up 241-8.
WICKET! Rahul c Inglis b Starc 66 (India 203-6)
Rahul tips his head up to the sky in despair. A beauty from Starc, just straightens and Rahul kisses it behind into the waiting gloves of Inglis.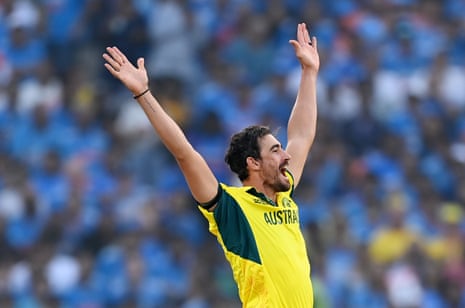 41st over: India 200-5 (Rahul 66, Suryakumar 9) As a sea of blue shirts gazes down, Zampa reels in. The crowd nervously acknowledge the 200 – not such a sure thing any more. Three from the over. Just 11 fours and three sixes in the innings.
40th over: India 197-5 (Rahul 64, Suryakumar 8) Hazlewood for his eighth. A half stop at midwicket turns potential four to stingy one. Five singles from the over. 45-1 between overs 30-40. Here we go then, the final ten. What do India aim for?
"I know this sounds like early expectation management but when Glen Maxwell's darts go for just one in an over, at the 37th over, the pitch is clearly no gimme," writes Gervase Green. "Which I guess also explains why Capn' Pat sent them in."