Tadej Pogačar is starting to look and sound weary.
Not "I'm gone, I'm dead" weary, but appearance weary. 
He's at the tail-end of an almost two-week long press junket through Asia, which has included exhibition criteriums in Singapore and Japan and the multiple promotional events for them including interviews with local media and the invited international press.
The beginning of October is a weird time to interview WorldTour athletes. Come the end of November they're typically dying for a chat, but not so much in October. October is like concurrent Sundays. They've talked at length about the season with levels of introspection generally reserved for therapy, and they can't venture much on 2024 campaigns as teams don't formalise their plans until December. 
The first group interview Pogačar does in Singapore doesn't provide any more insights into his all-conquering character than what we already know, but it does still generate lots of headlines.
He has an insatiable appetite for competition and would do every race if he could – from the Classics to the Grand Tours and the week-long stage races in between. The Tour de France in which he has developed – I later find out – a very real rivalry with double champion Jonas Vingegaard, wasn't his sole focus in 2023, nor does it rate a mention in his top moments.
"I still don't know anything about my [2024] programme. The heart says to do everything, but you cannot do everything," he says.
Vingegaard, absent from the exhibition events overseen by Tour de France organiser ASO, has apparently rated his suitability to the course for next year's La Grande Boucle as an eight out of 10. So, naturally, Pogačar gives it a nine.
"It's supposed to finish where I train every day," he says.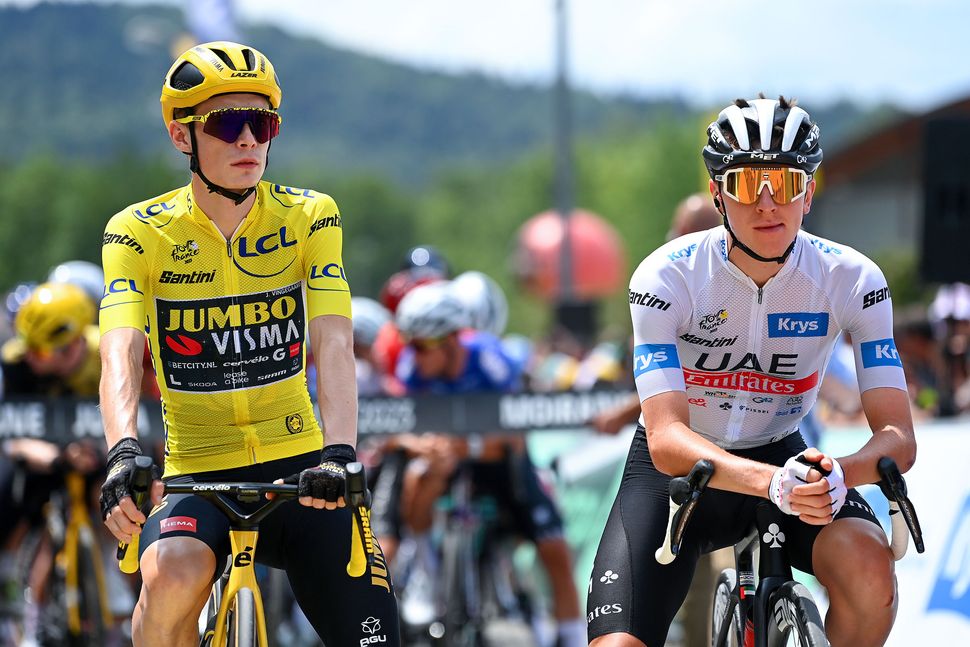 Pogačar arrives at a hotel lobby, with his sports manager Alex Carera, to around a dozen awaiting cycling journalists. 
The 25-year-old sits down in the middle of them, Carera within earshot, and while he doesn't look intimidated or uncomfortable, it's not an environment that is exactly conducive to openness or even sentimentality. 
Pogačar, when asked about backroom staff and specifically the departure of former sports director Allan Peiper – a mentor to him when he first joined UAE Team Emirates in 2019 – seems either not to fully understand the question or chooses not to fully answer it.
Peiper, who has bravely fought a long battle with cancer, was due to return to the squad as a race analyst this year but both parties couldn't agree on terms. 
"Allan would be really great in the team as some sort of coordinator for the Tour and big tours for the time trials," Pogačar says. "For sure, we miss him a little bit in the team. He would be a great addition."
The questions from the invited press start out orderly before journalists, including me, begin talking over the top of one another, trying to push their own agendas forward.
"Sorry, ladies first," he says, looking at me.
Five points to Pogačar.
The exhibition events comprise part of his off-season and he is doing both with an entourage including his partner and Jayco-Alula cyclist Urška Zigart, personal photographer Alen Milavec, and Carera.
In between there's time for fun, which Pogačar defines as seeing the world, spending time with family and friends and trying new sports.
"Now is padel," he says, as the European journalists huddled around react with glee.
I've never heard of padel and must Google it later (FYI it's "a racket sport played in doubles on an enclosed court"). Milavec later posts action shots of Pogačar playing a game with Zigart, Carera, and Giulio Ciccone (Lidl-Trek), who as this year's winner of the mountains classification at the Tour de France is also on the junket.
"But I can't do it for the winter," Pogačar continues, "[so I] go on the skis, cross-country skiing and downhill skiing."
He plans to do nothing for only "a few days" after the trip around Asia before returning to training for his 2024 campaign.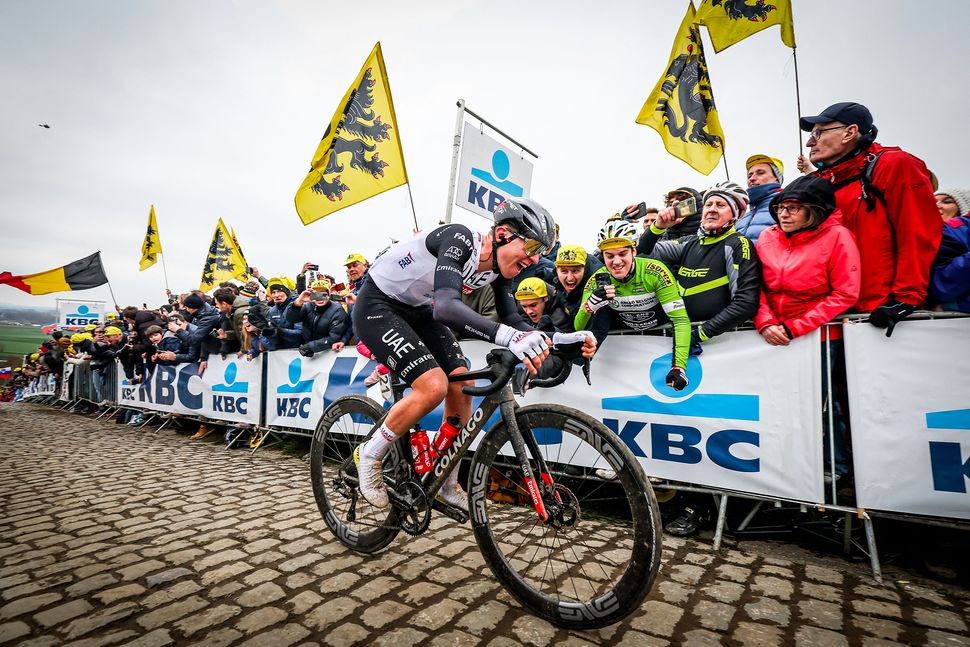 In Japan, ahead of the Saitama Criterium which he'd go on to win, I sit down again with Pogačar. He's now done several group interviews with international media. And several one-to-ones. Ours is brief in the UAE Emirates team pit of the Saitama Super Arena – a large stadium on the outskirts of the concrete jungle that is Tokyo. 
Here, he still has the energy to crack a joke.
I ask if one of the two luxury vehicles Pogačar owns remains parked in Jayco-Alula rouleur Michael Matthews' garage. One of them was about a year ago, and when Australian media included the detail in a profile written about Pogačar, the prodigious Slovenian took to social media during the Tour to quip that he was "borrowing" electricity.
"No, I made it so far now that I can afford my own electricity! I had my car in his garage, he's also a car guy and he always has some garages around," Pogačar says,
"I like cars a lot. It's super nice. I love. I have one Audi and one Porsche. Porsche is my favourite. This was my dream car, and the dream of the young kid has come true, so it's good."
Pogačar is polite but at this point also succinct. Question, answer, end. It's a 'why stand when you can sit' kind of vibe, which, all things considered, is understandable.
The junket has a two-fold purpose in promoting cycling across Asia and promoting ASO's crown jewel – the Tour de France.
But the race in which Pogačar entered on the back of limited competition, having fractured his wrist in the spring, doesn't earn a mention among his season highlights, despite the fact he won two stages, finished runner-up to Vingegaard for the second year running and claimed the white jersey for a record fourth straight – and last – time.
Pogačar made his final appearance wearing the white jersey in Japan, a fact not lost on his teammate Davide Formolo, who reminded him to enjoy the moment as he walked to the podium after taking the honours in the feature criterium ahead of Vuelta a España winner and Vingegaard's chief domestique, Sepp Kuss.
"I think Flanders was the best but also to finish off with Il Lombardia was pretty insane, to finish off the season like this," Pogačar reflects on his title wins this year.
His answer is the same as Milavec's, who also added Paris-Nice to the mix.
"Flanders is Flanders," Pogačar continues. "For me, Flanders is something I could just dream about, and I realised it in two years, that I can do it, so I did it this year and for me, this is something I wouldn't imagine three years ago."
The self-described kid has grown up a lot since he first rose to prominence as a neo-pro in 2019, winning the Volta ao Algarve and the Tour of California. At the latter he walked into the press conference as the race winner, baby-faced, softly spoken, gripping a giant teddy bear from start to finish.
Now Pogačar is a force unto himself, popular, with no specific mentor at UAE Team Emirates, where he has since excelled.
"We share our advisers between each other," Pogačar says. "I think that's what the team is for; when you have a question you go to somebody, when you have another question, you go to another one and they come to you and it's like this.
"That's why it's a team sport also, because you can talk to everyone about everything."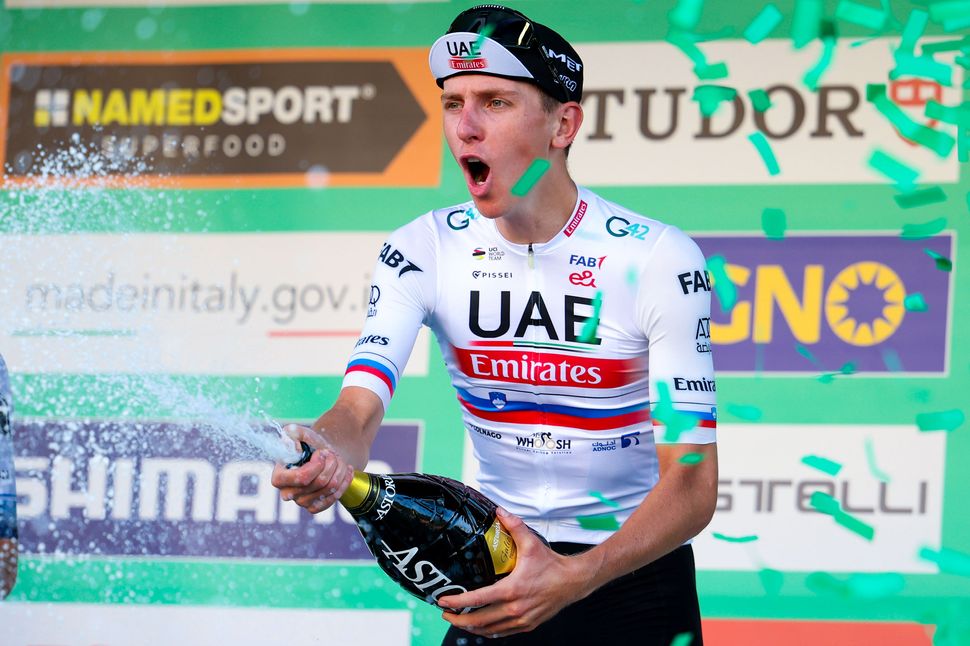 Milavec is easily identifiable at the junket. He wears a t-shirt that promotes his position as Pogačar's personal photographer.
The pair met at the 2018 Tour of Slovenia and have worked and travelled the world together since. Milavec stops short of saying he is part of Pogačar's "inner circle", describing himself as a "close friend" and adding that working with the two-time Tour champion is "fantastic."
"He's a sportsman so he really likes to win everything but, of course, he has so much respect for others, it's incredible, so even if he loses, he's really good with it," says Milavec. 
The Slovenian has a simple philosophy when it comes to capturing Pogačar's highs and lows at cycling's biggest events.
"The eyes are the opening to the soul, so for sure the most important," he says. 
For him, the Tour of Flanders was emotional because of the reverence of the one-day event and the passion of the hundreds of thousands, if not millions, of fans who line the roadside.
But asked to pick his best shot of the 2023 season, Milavec offers one he published on Instagram of Pogačar on the podium at Paris-Nice.
It's easy to forget about Paris-Nice, which Pogačar won this year ahead of David Gaudu (Groupama-FDJ) and Vingegaard, amongst his other results, including title honours at Flanders, Amstel Gold Race, La Flèche Wallonne, and Il Lombardia, plus his showing at the Tour, to name some. 
"One of the best ones [was] taken in Paris-Nice, especially on the last podium, with Vingegaard, because I captured Tadej smiling and then Vingegaard in the reflection of the trophy," Milavec says.
"That one was really, when I looked on my computer I said, 'Woah' because the trophy of Paris-Nice is very reflective, and I always search for reflections. I pre-visualised that one but I didn't know if I took it.
"That one was really special also because Vingegaard was third. If he was second then this photo would for sure not work."
Milavec mentions that Paris-Nice was the first time the pair faced each other since the 2022 Tour, where Pogačar was gunning for a third straight title but finished second to the Dane. In the shot, you see Pogačar's closed mouth smiling, satisfied, as Vingegaard appears to look up at him.
The rivalry is real. And next year it is only set to increase, with Primoz Roglič leaving Jumbo-Visma for Bora-Hansgrohe, also home to 2022 Giro d'Italia winner Jai Hindley, who persevered through injury to finish seventh on Tour debut this year.
Pogačar has already been asked about the move of his Slovenian compatriot Roglič, too.
"It's good to have such a big competition from all the teams not just like the last two years where we just see Jumbo against UAE," he says.
"I think next year also Remco Evenepoel will come to the Tour, and Roglič, a lot of other guys are setting up on a similar level. We can wait and see if it's going to be the best Tour."