I've been using and reviewing Insta360 cameras for years now. If there's a defining feature, it's that the brand never makes quite what you'd expect. We've got more than one on our list of the best action cameras and they each fit a unique need. The One RS is modular and fits together like a puzzle while the Go3 is about the size of your thumb and enables unique capture opportunities. Then there's, my favourite, the Insta360 X3 that's shaped like a candy bar and shoots 360 footage. Despite those great cameras though, what's always been missing from the lineup is a straightforward action camera.  
Tech specs: Insta360 Ace Pro
Price: £429.99 / $449.99 / €479.99 / $729.00 AUS
Video Resolution: 8K @ 24 fps (coming soon), 4k/2.7k/1080p @ 120/100/60/50/48/30/25/24 fps with HDR for 30 and below
Water resistance: IPX8 Waterproof to 10m (33ft)
Run Time: 1650mAh battery with up to 100 Minutes in 4K30 Active HDR (AI Highlights Assistant off). Fast-charging to 80% battery in 22 minutes and fully charged in 46 minutes.
The release of the Insta360 Ace Pro changes all that. For the first time, Insta360 has a camera that looks like what you'd expect. Look a little closer though and it's still unique. There's a flip screen and accessories to turn it into a full blown content creation machine. As I've played with this new camera, as well as a collection of accessories, over the last few weeks, I've found myself genuinely inspired and excited about video for the first time. 
I've spent years putting my art degree to work creating still images but I never grasped how to add dimension to a video. When I started playing with the Insta360 X3, that camera started me down a path but then I got stuck. Shooting in 360 is absolutely the best choice when on a bike but the nature of my riding meant I found a limit to what I could do. For me, the Insta360 Ace Pro adds the missing layers to the X3. If you are also interested in creating compelling content, keep reading to see if this is the right tool for you.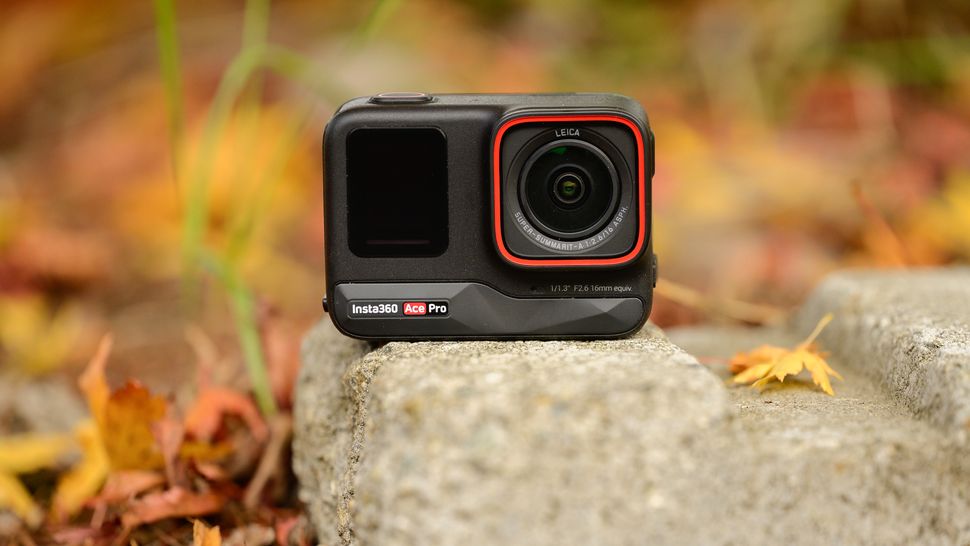 Design and aesthetics
As I mentioned above, Insta360 makes cameras that are different. There's always some intriguing and unique aspect to the packaging and design that's unusual. The Insta360 One Rs was the previous camera most resembling a traditional action camera but it was still drastically different. That camera has three modules and it's possible to swap them out for different pieces as desired. When fully assembled though it looked like a small rectangle the size was ever so slightly smaller than a GoPro Hero 12. 
The Insta360 Ace Pro in many ways leaves that heritage behind. It's a dense rectangle, 179.8 grams, with a size that's ever so slightly larger than the previous One RS. Read between the lines, and this latest camera is almost exactly the same size as a GoPro Hero 12 with more or less the same format. 
In fact, at least from the front, the Ace Pro appears to be a bit of a GoPro clone. The lens is f/2.6 with a 16mm equivalent (nearly the same as the F2.5 and 15mm equiv of the GoPro) and it sits under a square lens housing on the right hand side of the body. On the left is a screen that mirrors the GoPro screen placement though this time is a bit less square. Below the lens of each camera is where you'll find the mic and the lego is to the left. Aside from the logo and some angular texturing at the bottom of the camera, it's unlikely most people would know this wasn't a GoPro. The colour accents use red instead of blue, and there's a Leica tag (due to codevelopment of the lens with the legendary camera maker) above the lens but you'd really need to be in the know to notice those details. 
As you continue to explore the rest of the Insta360 Ace Pro, you'll see this camera is actually far from a GoPro clone. The two have similar uses and similar shapes but are quite different. For one thing, that screen on the front isn't for framing like the GoPro Hero 12. Instead the front screen is a quick status screen. When the camera is on it shows the selected mode, recording options you've chosen for that mode, battery life, memory card space, and a big light bar that glows blue or red depending on recording status. 
The sides are also a bit different from previous Insta cameras and GoPro cameras. While the modular cameras from Insta360 use a battery module, you'll now find a battery door with an internal 1650mAh battery on the left side of the camera. The thick rubber gasket behind it means it takes a hefty pull down to get it to open. The opposite side has a similar door beneath which you'll find the micro-sd card slot and a USB-C data and charging port with fast charge capabilities. Above this door is where you'll find the power button and the shutter button is at the top of the camera.
The bottom of the camera is where you will find the mounting point. Unfortunately, there's no standard tripod mounting point or a standard action camera finger mount. Instead, the bottom of the Ace Pro is a metal plate with four recessed catches. This is similar to the Go3 and mounting something requires first attaching what is essentially a magnetic adapter to the bottom of the camera. In the box you'll find one adapter to add a "finger style" action camera mount but to attach a tripod you'll need a 3-prong to 1/4″ adapter. If you stick with Insta360 accessories some will have the adapter included, like the multi mount, and you could invest in the quick release mount. 
The real difference though, and perhaps one of the main reasons you'd want to choose the Insta360 Ace Pro instead of an alternative, is the back of the camera. The rear of the camera is a 2.4″ touchscreen that's not so dissimilar to a GoPro. There's more though, this one folds off the camera body. Move it from 0 to 90-degrees to see your framing at odd angles or with an accessory handheld rig of some kind. If you keep going past 90-degrees the screen flips and you've now got a selfie framing rig. Just remember you need to look at the lens once you have your framing set. 
The other big difference between both past Insta360 cameras and the GoPro Hero 12 is the sensor. The Insta360 One RS uses a 1/2″ sensor while the GoPro Hero 12 uses a 1/1.9″ sensor and the Ace Pro features a 1/1.3″ sensor. Keep in mind that while those numbers feature the inch symbol, they are not actually referring to a one inch or 25.4 mm diagonal sensor. That's a sensor standard size sometimes referred to more accurately as a Type 1/1.9 (6.3 x 5.5mm) CMOS sensor for the GoPro and a Type 1/1.3 (11.72mm x 15.63mm) sensor for the Insta360. What's important here is that the Insta360 sensor is nearly double the size. 
Of course, the debate about sensor size importance is a fierce one. You may disagree that it matters and there are certainly excellent cameras of all types with smaller sensors. In this case Insta360 is also offering 8k shooting (though it's not currently released), and there's 48mp still shots available, but resolution and sensor size aren't necessarily linked. All things being equal though, larger sensors produce better quality in low light and that's a good thing. Whatever your stance, it certainly won't hurt to have the larger silicone. 
Performance
My time using the Insta360 Ace Pro has been a mix of two slightly different experiences. On one side, is the traditional idea of what an action camera is. Like others, you've got a little waterproof box that shoots incredible quality stabilised video. What "incredible quality" actually means is a constantly moving target but for those that care, Insta360 promises that soon you'll be able to shoot in 8k and this is where I first focused.
When the Insta360 Ace Pro landed in my lap I immediately started studying beautiful footage on YouTube and wondering what I might do with ultra-high resolution. As I watched people do amazing things in 5k GoPro footage I looked out the window at the grey Oregon fall days. I wasn't going to be doing that kind of thing any time soon. But is that really the point of an action camera? Is your life actually that filmable? I don't know about yours but I know mine generally isn't and that's true even when I'm doing some pretty amazing things. Then I realised, it's not the location or footage that makes most video watchable. 
If you want to create content either for yourself and your family, or for the whole world, the point is to tell a story. I know this conceptually but the Insta360 Ace Pro allows me to put it into practice. You can go ahead and strap it to the front of your bike and record a bunch of footage but you can do that with a variety of different options and it's probably not all that interesting. Ultra-high-definition doesn't change that for most people. 
In fact I feel like it's important to note that if you want to shoot that kind of single layer footage, Insta360 offers better options. You can get far more interesting footage using a 360 camera and choosing what you show the viewer in post. You can also get unique shots using the little Go3 and its inherent ability to shoot in ways other cameras can't. So far, this is as far as I've gotten with my ability to create interesting footage. Creatively it's like using a still camera. It presents something and finds ways to visually make it interesting. 
The Ace Pro has another trick though and for me it unlocked what I'm calling the other layers of video footage. If you spend much time watching YouTube videos, you'll see that very few rely on visuals to make interesting content. Not only that but those that are going that direction have far more captivating footage than me. If you want interesting content you need the ability to edit quick cuts and talk to your audience and that's where the Ace Pro becomes really interesting. 
Simply said, the available accessories, Insta360 editing app, and the flip up screen are game changers when combined with the price point and quality. All of a sudden I have the ability to shoot 4k footage with up to 120fps on tap if I want slow motion. I can also film myself talking to the camera then edit that footage on my phone and combine multiple clips with quick cuts, music, and transitions. Although other options have similar features, the whole package is currently unmatched.
The way that Insta360 puts everything together is just more cohesive. One example is on the audio side of things. Upgrading your audio capture beyond the internal mic on a camera is often one of the first steps to upgrading your video quality. With that in mind I looked around at the options and loved how compact and protected the Sennheiser MKE 200 is so I mixed it into the testing. Using the Insta360 quickmount adapter, the insta360 cold shoe, and the Sennheiser MKE 200 yields a setup that is higher quality, more compact, and better integrated than you can put together with a GoPro plus you get the advantage of the bigger, front facing, screen to set up your shots.
Now I do have to mention that this whole system isn't perfect. To add the cold shoe adapter you also need the quick release adapter. Although having a quick release is sometimes an advantage, it isn't super stable. You'll need to switch between mounts depending on your use and you can't quite reach the release buttons with the cold shoe adapter in place. It's also not ideal that the cold shoe only has one mounting spot so you'll need to get creative to attach both a light and a mic. Still, I was able to create the best video I've created so far.
My process started by heading out from my house with the camera attached to the front of a Scarab gravel bike using a K-edge mount and the action camera mount. I filmed a few clips on the bike path. Then I took advantage of the magnetic mount and removed the camera to do a couple of shots while I rode past, including some at 120fps. At home I added the cold shoe and the Sennheiser mic then flipped up the screen and did roughly a million takes trying to talk to the camera while sitting in my studio. After my kid said my best take sounded like I was clinically depressed, I put everything on the multi mount and headed outside where I used the Clarity Zoom feature (2x zoom without any loss in quality) to narrow the field of view and hide the state of my yard. I also recorded a few different clips practising talking to the camera for Instagram.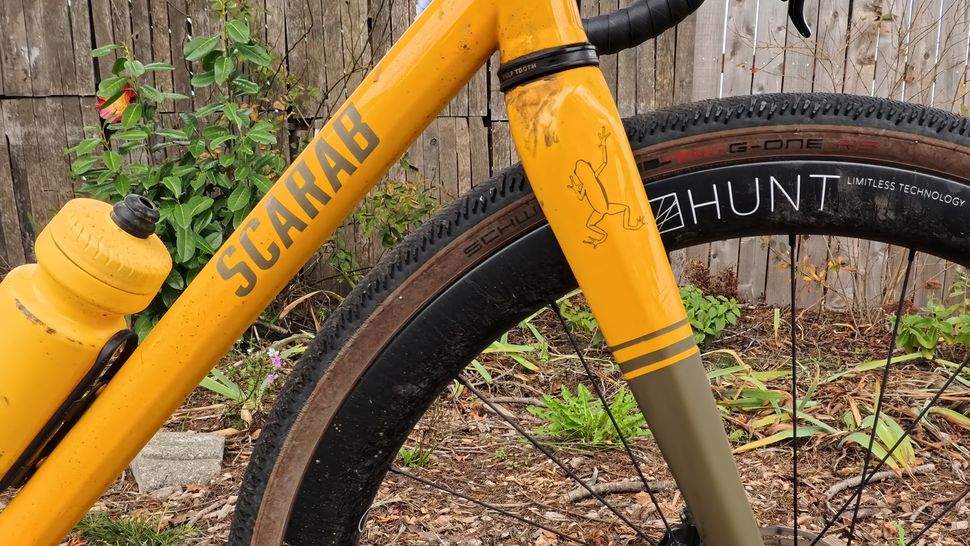 With all my clips on the camera I chose to output a few different things in different ways. Some of the clips I edited on my phone and uploaded to instagram as stories. If I had only been outputting for Instagram I actually could have done the whole edit on my phone but I wanted to have additional control in terms of fading the music so I jumped on my computer. From there I used the Insta360 app to cut the clips down to size, add the motion effect to some of them, and output everything to drop into Adobe Premiere. In Premiere I arranged everything, added transitions, and faded the music in and out. 
The other thing I've done a lot with this camera is use it as a webcam. It's a huge upgrade compared to the built-in camera on your computer and you can get it to sit in almost the same spot using a small tripod. I'm hardly suggesting you buy the Ace Pro for this reason but if you decide to pick one up it's a nice feature. If you are tired of looking terrible in meetings and you've already decided this camera sounds good, I recommend taking advantage of this feature.
Verdict
Aside from the eventual addition of 8k recording, the Insta360 Ace Pro isn't doing anything completely new. Other action cameras allow you to edit in an app and attach accessories like a mic. The Ace Pro also isn't perfect and there are a number of small detail issues that could use some massaging. The difference is that Insta360 is bringing together all the features a content creator needs into a single package and making it all simple. You can film yourself with high-quality audio, you can find interesting angles, and you can shoot gorgeous cinematic footage when the scene presents itself. Once you've got all your footage you can combine it on your phone into a cohesive story and export for your app of choice. That's powerful. 
In my relatively short time with the Ace Pro, I was easily able to integrate it into my workflow. I didn't try to take advantage of gesture or voice controls to start filming, Ai effects in the app, or any of the ways that the brand is helping to limit the number of clips you have on a card. I did however put the 4k 120fps footage to work and the PureVideo low light feature combined with the big sensor kept detail in both the shadows and the highlights of the clouds. More important though, I never felt held back. At the end I had a video that I'm incredibly proud of and I can't wait to use this camera more. I feel confident you'll see me combining footage from the X3 and the Ace Pro along with audio from the Sennheiser as I adventure by bike. I'm inspired and Insta360 makes it easy enough to use that I'll actually bring it with me. That's what I look for in a camera.  
Swipe to scroll horizontally
Testing scorecard and notes

| | | |
| --- | --- | --- |
| Audio Quality | Attaching a Sennheiser (or other brand) mic is always going to be a superior solution. The on camera mic is entirely usable but if there's outside noise you'll get drowned out. None of this is any different compared to competition. | 8/10 |
| Video Quality | Holding detail in the clouds and the ground on an overcast day is impressive. It's also impressive to have the highest definition recording currently available in an action camera though I wasn't able to test that detail. The quality of larger cameras is still better but the Ace Pro does a great job. | 9/10 |
| Form factor | The flip display adds a ton of useability. The loss of points here comes from not having a tripod mount directly on the camera and having no data connection through the mic adapter. | 9/10 |
| Included Software | Truly excellent it works well and makes it easy to get footage off of the unit and out to social in a hurry | 10/10 |
| Value | Compared to the competition the price is one of the biggest selling points. You get more useability and better quality for a very similar price. | 10/10 |
| Overall | Row 5 – Cell 1 | 90% |
Insta360 Ace Pro Tech Specs
Price: Ace Pro: £429.99 / $449.99 / €479.99 / $729.00 AUS
Aperture: F/2.5
35mm Equivalent Focal Length: 16mm
Photo Resolution: 48MP (8064×6048); 36MP (8064×4536); 12MP (4032×3024); 9MP (4032×2264)
Video Resolution: 8K (16:9) : 7680×4320@24fps; 8K (2.35:1) : 7680×3272@24fps; 4K (4:3) : 4032×3024@60/50/48/30/25/24fps; 4K(16:9): 3840×2160@120/100/60/50/48/30/25/24fps; 2.7K (4:3): 2688×2016@60/50/48/30/25/24fps; 2.7K(16:9): 2688×1520@120/100/60/50/48/30/25/24fps; 1440P (4:3): 1920×1440@60/50/48/30/25/24fps; 1080P(16:9): 1920×1080@240/200/120/100/60/50/48/30/25/24fps
Photo Modes: Photo, HDR Photo, Interval, Burst Photo, Starlapse
Video Modes: Video (with built-in Active HDR), FreeFrame Video, PureVideo, Slow Motion, Starlapse, Timelapse, TimeShift, Pre-Recording, Loop Recording
Colour Profiles: Standard, Vivid, Flat
Weight: 179.8g
Dimensions (W x H x D): 71.9mmx52.15mmx38.5mm
Run Time: 100 mins *Tested in a laboratory environment at 25°C with AI Highlights Assistant off, recording 4K@30fps Active HDR video. Battery life may vary under different conditions.
Max Video Bitrate: 170Mbps
Gyroscope: 6-axis gyroscope
Exposure Value: ±4EV
ISO Range: 100-6400
Shutter Speed: Photo: 1/8000 – 120s; Video: 1/8000 – to the limit of frames per second
White Balance: Auto, 2000-10000K
Audio Modes: Wind Reduction, Stereo, Direction Focus
Audio Format: 48Khz, 16-bit, AAC
Bluetooth: BLE 5.2
Wi-Fi: 2.4GHz, 5GHz, 802.11 a/b/g/n/ac
Storage: No built-in storage. Supports microSD cards up to 1 TB.
Battery Capacity: 1650mAh
Charging Method: Type-C USB
Charging Time: 46min (30W fast charging adapter); 63min: 5V/3A
Use Environment: -20℃ to 40℃